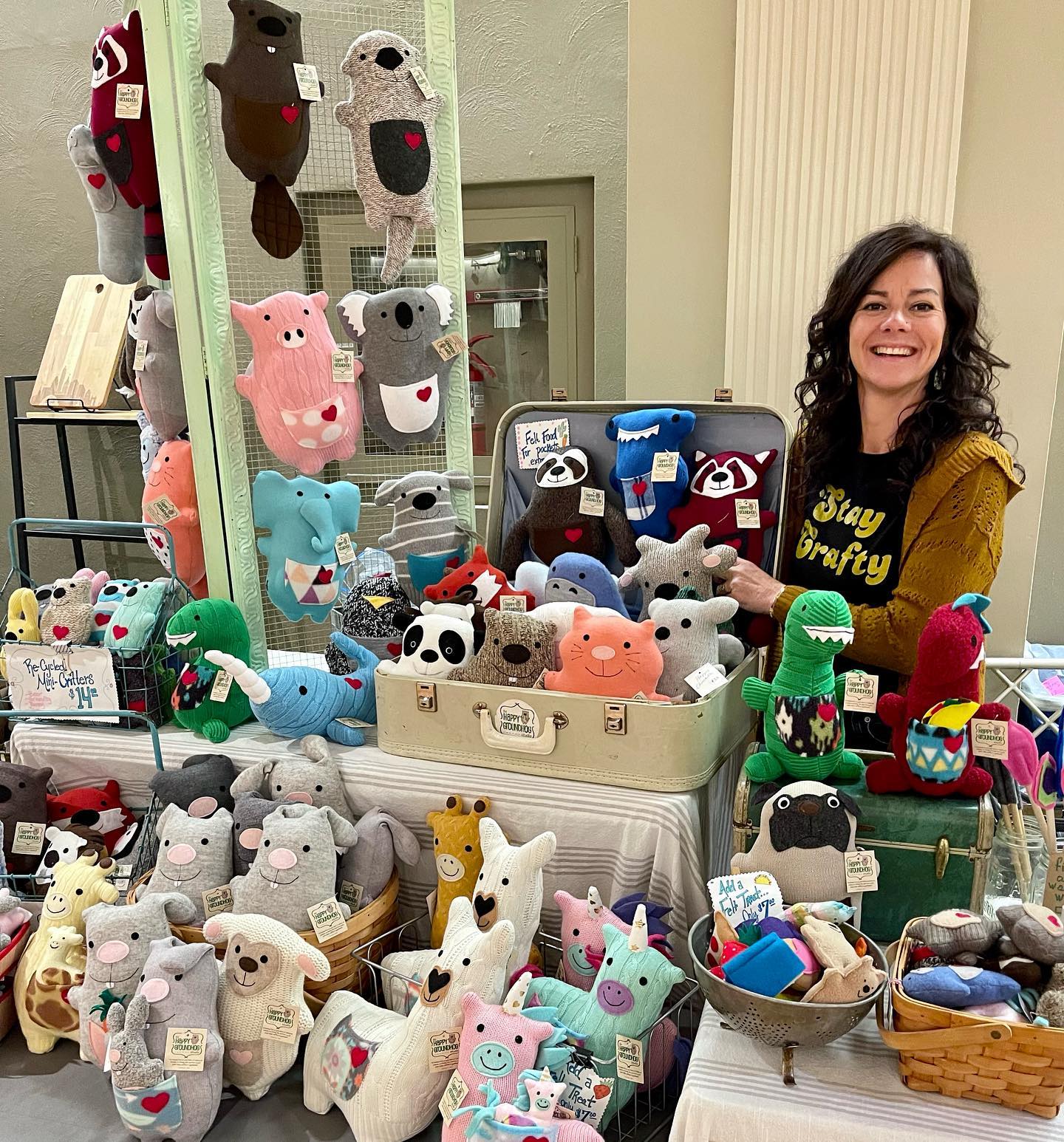 About The Happy Groundhog Studio
The Happy Groundhog Studio makes Eco-Friendly handmade critters, monsters and pillows with a heart. These Heirloom quality whimsical stuffed creatures are lovingly hand stitched and crafted from eco-friendly felts, upcycled sweaters, and fabrics.
Origin Story
Gifts from Granny B

When I was young my grandmother, who we called Granny B, made sock monkeys, stuffed bunnies, and all sorts of wonderful gifts for me, my sisters and cousins. She was so creative and unique.

Handmade Heirlooms

The sock monkey she made me became my favorite stuffed animal and I still have it to this day. I actually passed it down to my children. My grandmother recognized an artistic talent and also taught me how to sew.

Sculpting the Future

Melissa took her talents to the Art Academy Of Cincinnati and earned a BFA in sculpture. After graduation she took a side step into the corporate retail world and eventually became a mama and aunt. During this time she was looking to create art while the littles were around and could also enjoy.

Hello World!

Wanting to give unique handmade gifts to the special kids in her life, she called upon the skills that her grandmother taught her to up-cycle sweaters into stuffed plush critters. With her crazy love of animals and Granny B's spirit in her heart, came the line of plush creatures and The Happy Groundhog Studio was born.
The Happy Groundhog = Happy Planet
Reduce

By using materials that already exist on the planet, we're reducing our carbon footprint by not having to get new materials produced.

Reuse

Reusing materials like sweaters and turning them into a sweet little stuffed creatures just makes me happy. Reusing materials in a new way is exciting for my creativity and is better for our planet.

Recycle

All orders are shipped using all eco-conscious, compostable or reusable packing materials!
About Melissa
Melissa lives in Cincinnati, Ohio with her Musician husband, two red-headed kiddos, giant dog, and a flop ear bunny. She loves spending time outdoors and camping with her family in the cutest vintage Scamp camper.
New Releases from The Happy Groundhog Studio